Einstein Training Program and Core Curriculum
Einstein Training Program (EP)
The ECN will invest great care in organizing and evaluating structures and projects to harmonize the existing training programs in Berlin with the goal of achieving a strong collaborative research landscape in the neurosciences and a master's and PhD education equal to the highest international standards.
Our research program is characterized by unique collaboration and partnerships
The ECN will be the central institution connecting its PhD students to partner institutions, such as, the Berlin School of Mind and Brain, the Bernstein Center for Computational Neuroscience Berlin (BCCN), the International Graduate Program Medical Neurosciences, and the Cluster of Excellence NeuroCure. The Neuroscience ECN PhD program trains a selected group of students in an intellectually stimulating and supportive environment.
The ECN PhD fellowship program offers selected students the opportunity to become experts in neuroscience research and related disciplines. While the first cohort of 2017 has already started their curriculum, we offer new PhD fellowships every year – with annual calls for application starting in fall.
The combination of the ECN curriculum and courses offered by our partner institutions allows students the interdisciplinary study of neuroscientific disciplines (such as anatomy, physiology, cell biology, computation, pharmacology and philosophy). Learning about the research questions and methodologies of different scientific fields will help students generate their own curriculum and pursue their individual research focus and career plans.
The goal of the core curriculum is to provide a common foundation, so that all students have a strong knowledge base and a common language across the breadth of Neuroscience, which is a highly diverse and multidisciplinary field.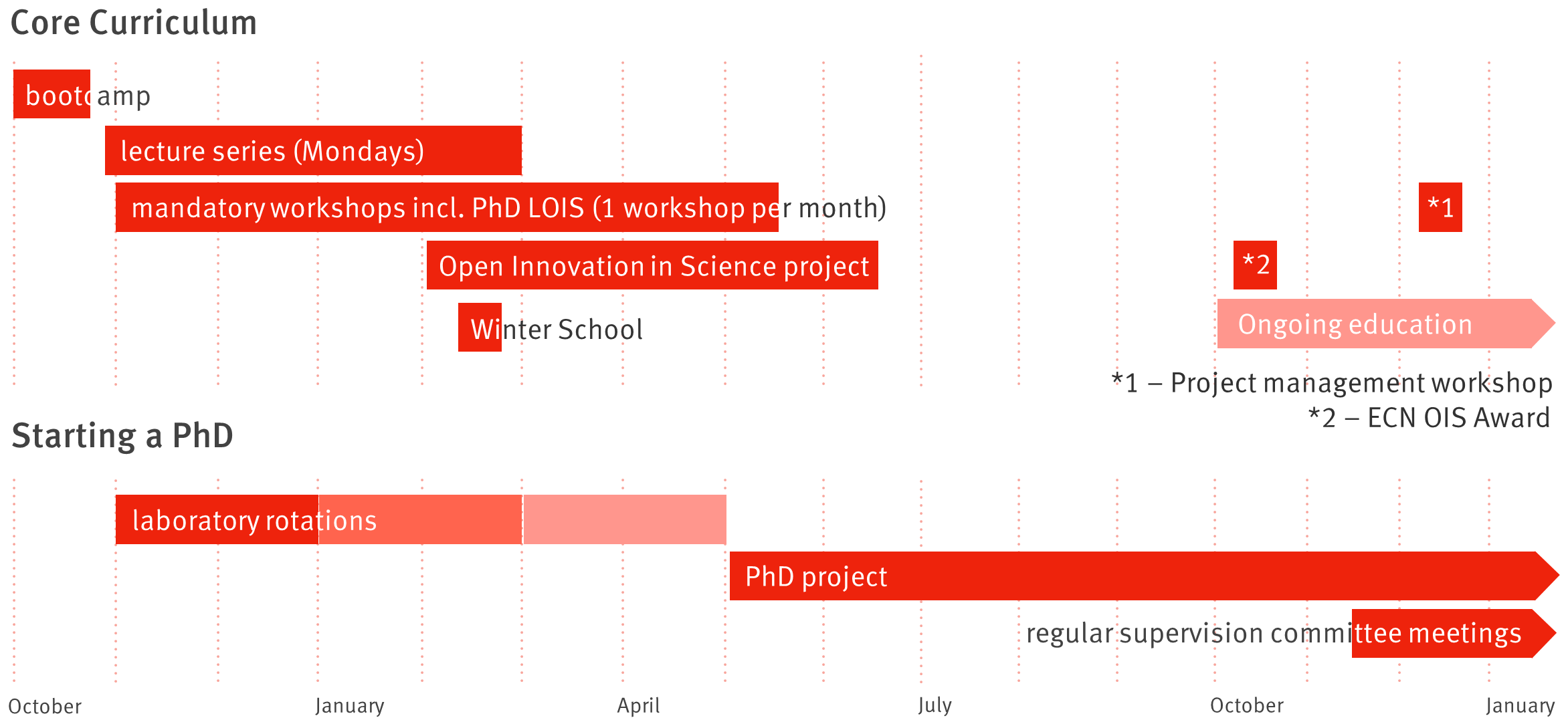 For More Information Click On The Topics Below
Boot Camp
Two weeks before the official start of the semester, the incoming students attend a two-week boot camp (end of September/ beginning of October). The two-week intensive program will help them generate an overview of the interdisciplinary fields of study before they specialize in their first laboratory of choice (during the following laboratory rotation period).
Students will familiarize themselves with the core curriculum of the Einstein Training Program (ETP) and get to know each other and the city of Berlin a bit better. The intensive program features lectures on key neuroscience concepts: The focus will be on fundamental aspects, such as, neuroanatomy, neurophysiology but also other relevant disciplines like philosophy and ethics. During the boot camp, the students will take a test for individual assessment and the identification of personal interests and strengths.
Laboratory Rotations & Core Curriculum
All students are expected to perform up to three separate laboratory rotations during the first six months in ECN workgroups of their choice. Each rotation usually lasts for a period of at least two months to gain hands-on experience in a variety of approaches and methods, get to know faculty members and their laboratory groups better. This way, all PhD fellows are able to make an informed choice about their respective thesis lab.
Meanwhile, the students will attend weekly lectures in Clinical Neuroscience, Cognitive Neuroscience, Practical Introduction to Python (or Matlab), Experimental Lecture to complement the core curriculum of their studies in each field. At the end of the rotation, the ECN PhD students will select a laboratory and mentor for their thesis. The Einstein Center will be central to organize this transition and remain the main contact during the following years of study.
Lab for Open Innovation in Science
The Lab for Open Innovation in Science (LOIS) was developed together with Professor Dr. Marion Poetz from the Austrian Ludwig Boltzmann Gesellschaft. Our LOIS modul is a professional training for the development of Open Innovation strategies along the entire scientific research process - from generating research questions to eventually translating scientific knowledge into innovation.
Five to six workshops distributed over three years introduce our PhD students to the basics of Open Innovation including open innovation processes and models, sources of innovation, search and collaboration methods, management of intellectual property, and relevant contingency factors.
The first module aims at providing participants with a solid foundation for discussing the transfer and application of Open Innovation principles and methods to the context of scientific research. Participating PhD students will furthermore receive instructions for developing first Open Innovation in Science project ideas which are going to be discussed during other modules and finally presented at the ECN Open Innovation in Science Award ceremony.
By the end of the training, participating PhD students will have developed an understanding of
- Basic attributes of Open Innovation
- Various aspects of Open Innovation, including sources of innovation, search collaborating methods and intellectual property rights
- Antecedents, outcomes and contingencies of Open Innovation
- Important challenges along the entire scientific research process and how these may be addressed by applying Open Innovation methods and principles
- Basic aspects related to external partnering for translating science into innovation
For further details please visit our Open Innovation section.
Continuing Education Program
The continuing education module will supplement the ECN core curriculum and give ECN PhD fellows a profound basis in relevant skills, such as scientific writing, project management and visualization of quantitative data. Modules in entrepreneurship, open innovation, technology transfer will also be offered.
Based on regular personal assessments of every student's skills, we will provide individual career help and advice (see also Career Development Initiative).
Supervision via PhD Committees
During the PhD period of study, about three years, ECN PhD fellows will maintain a close relationship with their supervisor and their PhD committee. Students will continue to meet regularly with the supervisor and the PhD committee to ensure progress towards successful completion of thesis research. The aim is to support the student in every possible way with his or her research while securing a high quality of supervision. The first meeting will take place shortly after the student has settled into his or her selected laboratory after the rotation period.